#5 Getting Google to LOVE you is one of the most powerful tools you can use
Although it is only one of many, Google is the most powerful search engine on our planet and you don't want to ignore it in your family law marketing efforts.
Get Google to love you and your law practice and you will attract clients for free and with very little or no effort.
This is what happened to me.
I rebranded my firm a short time ago. My law firm is very well known as a boutique family law firm via word of mouth, and I am grateful that we continually attract great clients. I currently engage in little marketing effort in order to keep up with the workflow and continue having happy clients. Although I am very grateful for my work, I do not want to be too busy to give excellent service.

After my professional-looking website, the place I have put my attention is Google my Business. It is particularly valuable if people are looking for a divorce lawyer in your region and, managed properly, will deliver you high, if not at the top, in the search results.
Right this minute, I just used an incognito (private) search and Googled "Best Divorce Lawyer." My law firm, Pathway Legal came up as #1 in the search results. The great thing is that as I write this, I only optimized our Google My Business page several months ago. Great results in a very short period.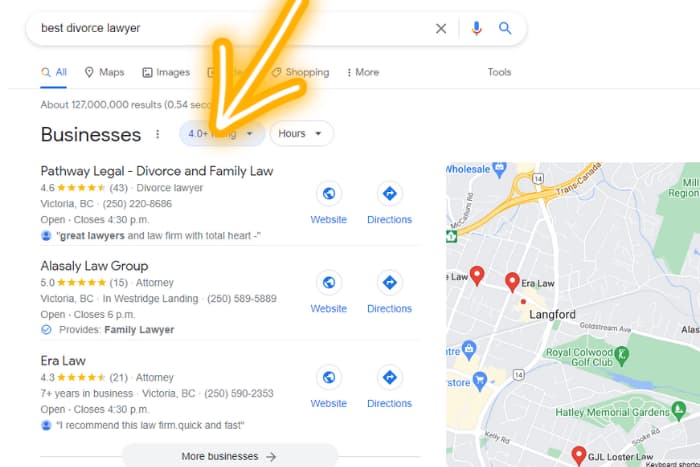 Here are the steps I used to get started with Google my Business:
I set up a profile.
I ordered a Google Map "Pin." Then Google sent it to me.
I created an account on Fiverr.com.
I notified this guy on Fiverr and hired him to optimize my Google My Business Page: https://www.fiverr.com/inbox/gmb_special. He gave the instructions that follow and optimized the page. He charged me USD 55.
Based on his instruction, I created 5 to 10 short articles about different areas of family law in which I could help people. I wrote articles about child support, spousal support, asset division, court appearances, and parenting plans.
Based on his instruction, I sprinkled 2 or 3 keywords throughout the articles (family, divorce, separation, court lawyer).
Based on his instruction, I gave him ten photos (I had photos of me, staff, and some unsplash.com stock images. I gave each photo a family law-related description (child support, parenting, etc.).
I made him a "manager" of my GMB site for the time he took to do the job, a few days. Then I deleted him as manager. All on his instruction.


After the site was optimized...
    1. We regularly ask for feedback from our happy clients with a direct review link sent to them.
    2. We answer ALL reviews. We use keywords if possible in response to reviews. If there is a (rare) negative review, we respond non-defensively.
    3. Using a virtual assistant, posts are made weekly and published under the "posts" menu. You can hire such an assistant on Fiverr or Upwork. The virtual assistant will also upload photos regularly.
    4. I (not very often) share my review link on social media.