Jan 15, 2023
How do you reduce the number of surprises?
By Val Hemminger, Divorce Lawyer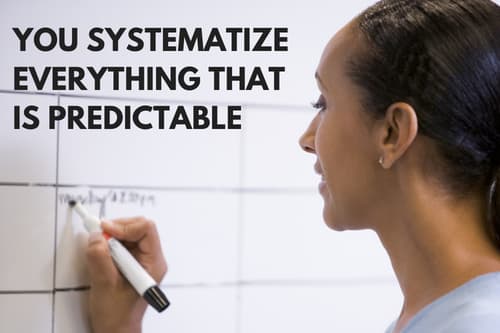 We all know it. It is the organized lawyers that are the wealthy lawyers. It is the lawyers that focus on efficiency that are successful. So how do you do it? First, you systematize everything that is predictable. This involves creating and using checklists, templates and protocols for everyday tasks, which will allow you (and hopefully your team) to handle routine matters quickly and efficiently. If you are like me, you find it tremendously dull to think about systems, checklists, precedents and templates. And yet, the very fact that I did this for my practice has created unimaginable freedom in my life. So, even though I am known as a Westshore lawyer, I can practice anywhere with an internet connection. When the routine is locked in and taken care of, you can focus on the exceptional:
● The exceptional aspects of your work
● The exceptional aspects of your personal life,
● The exceptional aspects of your relationships,
● And everything else that is exceptional.

Think about this:
● Where will your life be a year from now if you don't systematize your world?
● And where would it be if you did?!
Are you ready to get boring so you can create your extraordinary life?!
Your next action could be a sliding doors moment!
I have many tools and resources that are going to support you along this path. You can get exploring and discover how ways that it is possible for you to get going by visiting my Be The Best Divorce Lawyer and explore how to make the shift you know you need to make!
Best. Val 😀